Discover more from The Fast Charge
A weekly column highlighting the latest news and insights from Britain's electric vehicle industry.
Hello and welcome back to the first Fast Charge newsletter of 2023.
Top stories in today's bumper edition… NIO rapidly grows its UK team as it plans to open battery swap stations, Giles Coren goes back to petrol (or has he 👀), and are we in a charger drought? The latest figures say it's actually getting better.
But first… for those of you that joined recently… welcome! Each Tuesday you can expect to receive a digest of the latest EV stories that matter in the UK, plus insights from experts across the sector, regular analysis, exclusive data, and interviews.
To regular readers, hello again! You may notice some changes this year – I'm going to make this newsletter much snappier and longer features will now be published as standalone emails. These special editions will likely be monthly, rather than weekly.
However, more regularly, I want to include new quickfire interviews with people and organisations across the EV spectrum in a new 'Fast charging with…' section. This could cover a company announcement, industry insights, or an interesting take on the sector. I'm already speaking to a couple of people but if you want to get involved, do drop me a line.
You can get my contact details here or simply reply to this email.
NIO gets ready for UK launch
New team: The Chinese EV manufacturer NIO is rapidly growing its UK team. In the last two months, several new people have joined its team – with a Power Rollout Lead, Network Development Manager, and a Head of User Development all joining in the last week alone.
Background: NIO, which is a premium carmaker, confirmed last year that it would launch in the UK in 2023 alongside building out its battery swapping technology.
Two cars: The first cars which are coming to the UK include NIO's EL7 – an SUV – plus its ET5 – a saloon. It's thought these will be challengers to Tesla's Model 3 and Y.
Battery swapping: The unique selling point of NIO is all its car batteries are chargeable, swappable, and upgradeable. This has allowed NIO to develop a 'battery-as-a-service' model – meaning drivers effectively only have to buy their car and can then lease a battery of varying ranges from NIO. The carmaker currently operates 1,300 battery swap stations worldwide with most of those being in China. By the end of 2023, NIO plans to have 120 such stations across Europe - so far it has 10.
UK launch: In a post on LinkedIn last week, NIO UK's Network Development Lead confirmed that "this year NIO will begin the UK roll out of Power Swap Stations." She added that the carmaker was "actively seeking sites throughout all cities in the UK" to build its swap stations.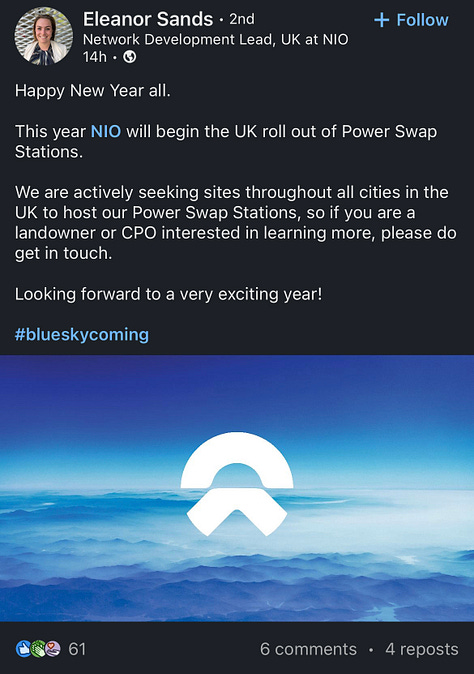 Where first: It's not clear when we can expect the first swap station to open and I'm informed that there are no finalised dates. According to reports last year, it's thought the first will be located in Oxfordshire.
Implications: While the company is definitely innovative, it's important that we keep in mind where this company is from… China. Rishi Sunak only recently described the country as a "systemic challenge to our values and interests". How comfortable will the UK government be allowing a Chinese business to establish potentially critical infrastructure in the UK – and undercutting European rivals in the process?
Giles Coren swaps his EV (for an EV)
Getting rid: The contrarian columnist for The Times and TV presenter, Giles Coren, revealed in a fiery article over the weekend that he is selling his EV – a Jaguar I-Pace. Read it here (paywall) or excerpts in The Sun.
Long struggle: Giles had been an early adopter of EVs, having bought his I-Pace in 2020. However, he encountered many difficulties. The car itself was stolen twice – before being retrieved – and constantly had issues. Giles, who lives in Hampstead, doesn't have a driveway, so he struggled with charging too. I interviewed him about his experiences in April last year (link below).
Timely critique: The commentary by Giles comes at a poignant time for the EV sector, as over the festive period videos and reports of charger queues went viral over social media. More on that below, but it's widely viewed that charger installations are not keeping pace with EV deliveries.
But! Despite claiming in his column that "electric cars are not the answer" and that he is "going back to petrol while there is still time", I can reveal that this isn't strictly true. On Saturday, Giles told me that while he'd swapped his I-Pace for an E-Pace, the Coren household is looking to buy a second-hand small electric runabout for use in the city. I recommended a Renault Zoe.
Are we suffering a charger drought?
Busy Xmas: Over the festive season, there was a notable surge in critical articles about EVs. Much of this seemed to relate to viral reports of devices not working, people being stranded, and even reports about three-hour queues at Tesla Superchargers. Like Giles above, I've seen many comments and first-hand conversations with EV owners who are packing it in because of awful experiences over Christmas. So, why did it get so bad?
Rapid growth: According to the Society of Motor Manufacturers and Traders, December was one of the biggest months ever for EVs – it meant battery electrics were the second most popular powertrain for the entirety of 2022. In total, according to my analysis using SMMT's data, there are now well over 600,000 fully electric vehicles registered in the UK.
However… while it's superb people are making the switch, the rapid rise in cars is adding increasing pressure on the public charging network. At the end of the year, Zap-Map published its latest statistics suggesting the UK has over 37,000 chargers available – note that official government data is published on 25 January. This data plotted on a graph (below) gives the immediate impression that chargers are surely not keeping pace with the surging EV population. As such, there have been several articles recently suggesting this, including The Sunday Times over the weekend which wrote a piece titled 'Britain's EV revolution risks coming unplugged'.
The reality is… when you measure the number of EVs to each charger – which has previously grown exponentially for years – it has actually improved for the first time since 2019. It's only a minor change but it does indicate that, certainly at the end of last year, charger installations were perhaps catching up. Albeit there is a very, very long way to go.
---
Quick reminder, if you want this newsletter every Tuesday, you can sign up for free ⚡
---
The latest EV news…
CLOSE CALL: Britishvolt, the struggling company wanting to build a battery gigafactory in Northumberland, is in talks to sell a majority stake to a consortium of investors for more than £150 million, according to the FT. This comes after many months last year when the firm looked set to fail. A decision will be made shortly by investors on whether to go through with it. Read more (paywall).
NEW FUND: The Department for Transport launched a £7 million tech fund (over three years) to help small and medium-sized businesses create innovative solutions to decarbonise freight. Read more on GOV.UK.
YOU FAILED: Speaking of the government, they officially failed to deliver their promised regulations to improve the consumer experience at chargers (such as 99% reliability at rapid chargers). One assumes they will likely arrive alongside the wider postponed Transport Bill – which might not come until May, apparently. In encouraging news, though, buried within a policy paper on the 'strategic road network' published on 23 December, the government included a section on 'provision for zero emission and hybrid vehicles' (point 109) that covers the user-friendliness of public chargers. Hat tip to Jo Griffin from Wattif EV for the flag.
NOT SAFE: Research by car marketplace heycar has found that 87% of public chargers have poor lighting, and 77% are unprotected by security cameras. The research was conducted alongside ChargeSafe, the fab organisation set up to boost the safety and accessibility of public chargers. Read more.
NEW NETWORK: In better charging news, Mercedes-Benz announced a plan to build a 10,000 charger network by 2030 – following in the footsteps of Tesla's Supercharger network. It will develop in North America first before coming to Europe. Read more.
IDLE FLEET: Here's an odd one… a councillor in York has accused York Council of "hiding" some of its EVs because it was unable to use them due to lacking infrastructure. In response, the council didn't deny the story saying 13 out of 43 were currently in operation. Read more.
FEELING IT: If you haven't already, check out the new EV brand that was announced by Sony and Honda. It's called the 'Afeela' – which is an interesting name choice – and at CES 2023 they revealed a saloon prototype. See it.
COMING UP: Autocar has pulled together a helpful list of every EV being launched this year (and when). See here.
OLD DOG: Speaking of Autocar… TV presenter James May has written an article for the Daily Telegraph about his experience with EV ownership – he has a Tesla Model S and previously owned a BMW i3. In his article, he suggests public charging is a "ball-aching inconvenience" and that we need millions of chargers, not the 300,000 ambition right now. This mirrors what he told me last year outside the local pub we share. At the time, he'd just tried to visit and use the new-ish Shell Recharge hub in Fulham, but James said it was busy so gave up. Bit of a shame really. Read his piece here (paywall).
FLEXI VOLTS: Dynamic pricing arrangements at public charging networks could be a model for all operators to follow, according to Cornwall Insight. It could potentially save drivers too, with charging aggregator Bonnet estimating that EV drivers using dynamic tariffs could save more than £238 this year. Read more.
BIG GROWTH: Data released by Zap-Map yesterday revealed that 106 EV charging hubs opened in 2022 – a 56% increase to 2021. In total around 8,000 charging devices were added to its map in 2022. The number of ultra-rapid devices grew by a whopping 78%. Read more.
WATT DISNEY: Speaking of new devices, what on God's green earth is this freaky-looking 7kW charger installed recently by BP? Have they taken inspiration from Mickey Mouse? Hopefully just a one-off…
UPDATED POLICY: The government's energy support scheme for businesses will be scaled back from March - when the current scheme expires. Under the new plans announced by the Treasury, the government will reduce energy costs rather than cap them - the level of support will also depend on what sector your business is in. Learn more.
NEW ANALYSIS: The RAC has found that the cost of using rapid chargers has risen by 50% since May 2022. It now costs an average of 70.32p per kw to rapid charge on a pay-as-you-go basis, up from 44.55p (58%) last May and from 63.29p (11%) last September. Read more.
By Tom Riley | Check my Linktree for LinkedIn, TikTok and Twitter