Discover more from The Fast Charge
A weekly column highlighting the latest news and insights from Britain's electric vehicle industry.
Hello and welcome back to The Fast Charge, a British EV newsletter.
Top stories in today's edition… the government is preparing for its 'Green Day', VW unveils an EV for the masses, and Tesco now technically runs the fifth biggest charging network.
As ever, if you have any thoughts or comments, please do get in touch. My contact details are here or simply reply to this email.
Government 'Green Day' offers hope for EV sector
Background: Last Wednesday, Chancellor Jeremy Hunt revealed his Budget – the first proper one since 2021. While many in the EV sector had waited with bated breath for announcements of new support – or perhaps an equalisation of VAT on public versus home charging – these wishes did not materialise.
The response… While there were several supportive tax breaks for industry, many in the EV sector have felt let down by a lack of incentives to go electric, meanwhile, internal combustion cars were graced with a further fuel duty freeze. Mike Hawes, CEO of the automotive industry group SMMT, commented that the Budget offered "little that enables the UK to compete with the massive packages of support to power a green transition that are available elsewhere", in reference to the recent massive US green subsidy package.
Frustrated industry… The CEO of Bentley, Adrian Hallmark, echoed comments many carmakers have said recently saying the UK government is doing 'nothing to help' the automotive sector. "If we were a start-up with no customers and no technology, then we could maybe get money, but as an incumbent . . . we can't get double-digit millions over five years, because the policies that the government offer don't support incumbents converting to green technologies."
Not happy… The FairCharge campaign, led by Quentin Willson, which has been spearheading the VAT struggle, was rather displeased. "This could have been a low-cost intervention to help grow EV adoption as well as stimulating capital investment in the UK's public charging infrastructure but, sadly, was brushed aside," Willson commented.
New analysis… The impact of the VAT change not being made could be quite costly for many future EV drivers. New research published today by FairCharge has found that the difference in costs between people with home charging and those using public networks is around £1,515 – with driveway folk on average spending £323 versus public-only charging costing £1,838.
What next… Say it quietly, but there could be hope for consumers and EV businesses on the horizon, as inside Whitehall both the Treasury and the new Department of Energy Security and Net Zero are allegedly planning a 'Green Day' before April. This has been rumoured in various forms for a long time and will likely centre on the government's response to Chris Skidmore's Net Zero Review a couple of months ago. The aim is to prevent investment in the UK's green industries, such as EV production, from being siphoned off to the EU or US.
Stay tuned… I've heard from a couple of well-placed people that the end of next week (w/c 27 March) is likely when we could expect this 'Green Day' to occur. Hopefully, it will include some real policies, rather than just being a knee-jerk PR reaction to the US Inflation Reduction Act – which has thrown many governments across Europe off-balance.
Side note, should you be interested in a summary of the Budget at large, you can read my thoughts here.
VW premieres an EV for the masses
Background: Since 2021, Volkswagen has been mooting a reveal of a small, affordable electric car - especially since it ended production of the e-UP! in 2020. After the success of its ID.3 – a hatchback that has been compared to the Golf – it was thought the new ID.2 would look very similar to the ID.3.
However... last week VW premiered its ID.2 and, from the images, looks much closer to what I think most normal people will be familiar with – a car that looks like a car, not a car that's desperately trying to look modern and clever.  
The spec… once you get past the marketing guff – such as the fact it's officially called the 'ID.2all', whatever that means – the performance of this car should be extremely likeable to consumers. It will only cost about £22,000 ($25,000 euros) and will do an expected 280 miles before needing a recharge. It'll also come with a range of new tech, such as special EV route mapping software.
Timelines… VW's ambition with this new car is to bring "electric mobility to the masses" and is one of ten new EV models the carmaker plans to launch by 2026. The ID.2 will go into production in 2025. Learn more about it.
---
Not subscribed? Get this newsletter every Tuesday for free ⚡
---
Latest EV news…
NEW DEAL: ubitricity, the UK's largest network with more than 6,500 chargers, last week announced it would be installing 100 new devices in West Suffolk. Apparently these will be the typical 5kW lamppost devices but also chargers with speeds of up to 150kW. Read more.
RAPID PUSH: Speaking of local councils, Birmingham's is working with Transport for West Midlands to expands it rapid chargers across the region. The first device has been installed at a Park & Ride site but Andy Street, the Mayor of the West Midlands, has said they are "actively identifying locations" for 10 further sites. Read more.
GROCERY VOLTS: Congratulations to Tesco, VW and Pod Point who last week installed the 600th charger at a Tesco store – which now boasts 2,500 charging bays in total, including 129 rapid devices. By my maths, with that many chargers, if Tesco were its own network, it would be the fifth biggest in the UK. Every little helps. Read more.
HOLD UP: Liberty Charge, who operate on-street chargers, has complained that a lack of insight on how long it takes to build EV infrastructure is frustrating the rollout of chargers. The main complaint is that local authorities are underestimating the timelines to install their infrastructure – according to a survey, 48% of local councils believe they can install charge points and create an EV strategy in under six months. Liberty believes councils need to set more reasonable expectations. They suggested one way to avoid long delays is to avoid government funding. Read more.
BATTERY PACKS: According to new research, many EV batteries are unable to be easily repaired if damaged if they are involved in accidents. While many carmakers are trying to address this (or have addressed it), apparently Tesla battery packs have 'zero reparability'. Read here.
GREAT FEATURE: Speaking of batteries, the FT published a feature about Northvolt in Sweden last week. For those unfamiliar, Northvolt is a battery start-up looking to produce and recycle cells across Europe (and potentially the world). It's really fascinating and crazily seems to be one of the few new mega-EV companies that is still going strong – it's the best-funded start-up in Europe too, having raised $5.5bn since its launch. Read here.
NEW FUNDING: The e-cargo delivery company Zedify has raised £5 million to expand its operations across the UK. The round was led by Barclays from their Sustainable Impact Capital portfolio. Zedify is likely to use the money to grow in Manchester and Birmingham. Read more.
BIKE CHARGING: Speaking of e-bikes, this story by Move Electric is the second one I've read in as many months about the growing area of charging networks for bikes. Given the growing popularity (and brilliance) of e-bikes, these stations – and potentially swap stations – could become valuable in future.
TAKING POLE: Good luck to Chris and Julie Ramsey who this week embark on their challenge to go pole-to-pole in a converted Nissan Aryia. The huge 17,000-mile trip is expected to take 10 months. It's never been completed in a normal car, let alone electric, so fingers crossed. Read more.
THROTTLE UP: Perhaps I've read too much into this, but I've felt over the past month that we're hearing from Tesla a lot more, rather than just solely through Elon Musk. As one example, after not having sent a newsletter for over six months, in the last 20 days they've sent two emails to UK subscribers. And, of course, only recently Tesla dropped its list prices for both the Model Y and 3. Maybe starting to feel the competition?
CHURN OUT: Speaking of eager carmakers, the Korean manufacturer Kia has been pumping out models recently. First they revealed the seven-seat EV9 family sized SUV. And, over the weekend, they shared images of their EV5 concept. It looks quite similar to Volvo's concept car from 2021 and is pictured with swivel seats. Images below.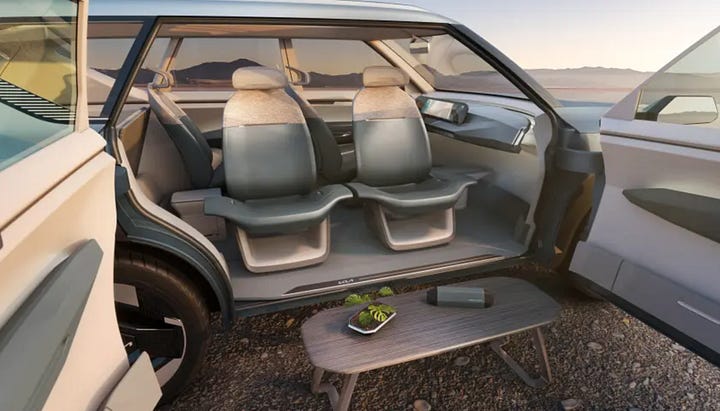 FORMULA AMI: Last week, I included a video of the tiny Citroen AMI flipping over as it went a bit too fast around a corner in Monaco – lots of you clicked this. Since then, I've come across two more videos of the incident. One was taken from inside the AMI, and the other is of the emergency services picking it back up.
By Tom Riley | Check my Linktree for LinkedIn, TikTok and Twitter